Posted by
Paul Murray
on
Monday Jul 30, 2012
Under
Tips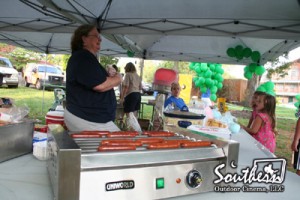 Concession snacks and the movie theater experience are closely linked, and share a long history. Snacks are important at outdoor movie events as well; in fact, concession snacks are just as important as the movie. Seeing the movie outdoors is fun for guests, and the food sold at a concession stand will add to the fun. If you are working on a tight budget, a concession stand might seem out of reach, due to the expense of stocking it. Fortunately, there are several strategies you can employ to stock your concession stand on a budget. (Click here to tweet this.)
A Brief History
The link between movies and concession snacks has always been there; Although, at first, movie theater operators resisted. In 1905, when the first early theaters opened their doors, concession stands were not yet located inside the theaters. They were, however, nearby, and were frequented by guests who wanted to snack during the show. Theater owners were against concession sales at first; they disliked the mess the snacks created, and wanted to keep candy and popcorn out of their theaters.
Things changed during the great depression, when theater owners realized concession snack sales could help keep them afloat during tough economic times. Since then, the movie concession industry has grown and changed, but the basics remain the same. Popcorn was, and still is, incredibly popular, and concession sales remain a great way to make money at movie theaters or other movie events.
Working With a Budget
Selling food at a concession stand is a great way to recoup the costs associated with outdoor movie production. Stands can take in about 85% profit off of concession sales. For example, popcorn that can be sold for $1 at an event costs just $0.15.
Regardless of the financial advantages of having a concession stand at your event, there are still costs associated with stocking the stand that you will need to contend with.
Here are some ways you can stock your concession stand on a tight budget:
Free Advertising for Food Donations

Offer free advertising for food donations. Offer ads within your advertisement materials, or show a slide show of your sponsor before the movie.

A Wanted List

Send out a wanted list. Ask parents within your organization to donate items to sell at you concession stand, such as bags of chips or pretzels. Don't forget to ask for items like cups, napkins and forks.

Buy in Bulk

Visit your local big box store warehouse club and purchase items in bulk.
Selling concession snacks at your outdoor movie event is a smart choice. Guests will have more fun when there is food to snack on, and you can benefit financially from the sales. use these ideas to take advantage of concession sales on a tight budget.
All Rights Reserved
Copyright 2002-2012
Southern Outdoor Cinema
###
Want to use this article on your website or your own blog? No problem! But here's what you MUST include:
Southern Outdoor Cinema is the largest producer of PREMIUM outdoor movie events in the country. They are leading the industry with NEW & UNIQUE outdoor movie events. To begin planning your outdoor movie event contact Southern Outdoor Cinema at www.SouthernOutdoorCinema.com or visit their online photo gallery at www.facebook.com/SouthernOutdoorCinema for event ideas.

Tags : concession stand, fundraising, Outdoor Movie Event, raising money | Comments Off

on Concession Snacks are Just as Important as the Movie