Good dads make a huge impact on their children's lives, and children often do the same for their fathers. Celebrate the special relationship between you and your dad this Father's Day with one of these movies.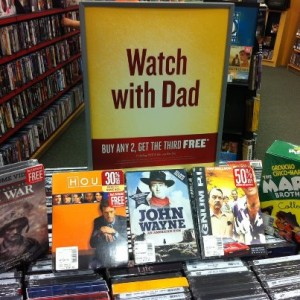 Finding Nemo
Even very young children can enjoy this sweet and funny movie with dad. Marlin, a clownfish, is loving and overprotective towards his son Nemo because of a barracuda attack that killed Nemo's mother and all of his siblilngs when they were just eggs. Nemo rebels against his father's overprotective nature and ends up being captured by a diver. Marlin travels the ocean and eventually finds Nemo. Following the journey Marlin learns to let go and let Nemo enjoy life and Nemo comes to appreciate his father's love and concern.
Pursuit of Happyness
The main character in this movie, Chris Gardner, represents the real Chris Gardner, a stockbroker who was homeless before becoming successful. In the movie Chris's wife leaves him and their son because of severe financial trouble and stress. Financial problems lead to the father and son pair becoming homeless. A chance meeting lands Chris a stockbroker internship and a chance at success and stability. They face enormous challenges during the internship, but Chris goes on with his work and lands a job without making their problems known to his employer. This father overcomes seemingly insurmountable obstacles to succeed and find a way to provide a better life for himself and his son.
Daddy Daycare
After his wife returns to work and their son begins daycare, Charlie soon finds himself laid off from his job. As a solution to the financial strain this creates, Charlie and his best friend decide to open up a home daycare, called Daddy Daycare. After some initial troubles, the daycare becomes a huge success and the dads discover they actually love spending time with their kids at this new job. Challenges from a competing, larger daycare center eventually lead to a shut down, and the daddies return to their old jobs. It soon becomes clear, however, that these dads are meant to run Daddy Daycare and it is reopened as a large, successful daycare center.
Father of the Bride
Any father and daughter pair can relate to this movie. George finds himself struggling with letting go when his daughter, Annie, announces her engagement, and he immediately dislikes his future son-in-law, Bryan. After Annie and Bryan have a fight, George spends some time alone with Bryan and can see that Bryan's feelings for Annie are genuine. The idea of his daughter getting married is still difficult, but George demonstrates the true love of a father for his daughter by accepting his future son-in-law when he sees that Bryan is a good man.
Sleepless in Seattle
In this movie it is the child taking action to help his father. Jonah's father, Sam, is distraught following the loss of his wife. After a while, Jonah decides he needs to take action and help his father find happiness. Jonah calls into a late night talk radio show and Sam tells his story. When Annie, a reporter, writes a letter to Sam following the radio show, Jonah takes matters into his own hands and responds to the letter, agreeing to meet her at the Empire State Building. Jonah goes to the meeting, Sam follows looking for Jonah, and the movie ends with the three finally meeting at the Empire State Building. Love between a father and a child goes both ways, and this film is a wonderful example of a child's love and concern for his father.
All Rights Reserved
Copyright 200-2012
Southern Outdoor Cinema
###
Want to use this article on your website or your own blog? No problem! But here's what you MUST include:
Southern Outdoor Cinema is the largest producer of PREMIUM outdoor movie events in the country. They are leading the industry with NEW & UNIQUE outdoor movie events. To begin planning your outdoor movie event contact Southern Outdoor Cinema at www.SouthernOutdoorCinema.com or visit their online photo gallery at www.facebook.com/SouthernOutdoorCinema for event ideas.

Tags : father's day, movies, watch with dad | Comments Off

on 5 Movies to Watch on Father's Day