Posted by
Paul Murray
on
Friday Apr 13, 2012
Under
Tips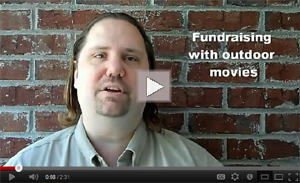 Is your organization tired of selling chocolate for their fundraisers? Selling wrapping paper at Christmas time getting boring? Why not try something different for your fundraiser such as hosting an outdoor movie night.
A fundraising event should be;
– Fun and stress free
– Easily raise money for your organization
– Be entertaining and memorable for your audience
Outdoor movie events make great fundraisers for three reasons:
Movies appeal to all ages
Outdoor Movie Fundraisers on inflatable movie screens are stress free to organize with the help of Southern Outdoor Cinema
Movie Fundraiser will raise valuable dollars for your charity.
Here are three of many different tips you can do at an outdoor movie event to raise money for your organization.
Sell concessions:
Consider selling concessions at during your movie event. Popular movie snacks include popcorn, candy and soda.
You could also consider pre-order dinner packages such as hot dogs or pizza. To do this go ahead and have people sign up for dinner packages before the night of the event so you know how many dinners you're going to need to order. This way you do not have to worry about ordering too much or too little food.
Silent auction:
Get local businesses or folks to donate items for the silent auction. Then, announce the winner before the movie starts on one of our microphones before the start of the film.
Pre-Movie Time:
Take advantage of the pre-movie movie time. You can consider using a dunk tank. That is a great way of raising money because everybody wants to dunk somebody. If you are with a school, a principal is a great person to dunk. For community events politicians, senators, or local sheriffs are all great options. It's a great way of raising money and it's something you can do before the start of the movie.
All Rights Reserved
Southern Outdoor Cinema
"Bigger Screens. Brighter Images. Crisper Sound."
###
Want to use this article on your website or your own blog? No problem! But here's what you MUST include:
Southern Outdoor Cinema is the largest producer of PREMIUM outdoor movie events in the country. They are leading the industry with NEW & UNIQUE outdoor movie events. To begin planning your outdoor movie event contact Southern Outdoor Cinema at www.SouthernOutdoorCinema.com or visit their online photo gallery at www.facebook.com/SouthernOutdoorCinema for event ideas.

Tags : fundraisers, fundraising, outdoor movie, outdoor movies | Comments Off

on Fundraising With Outdoor Movies