Posted by
Paul Murray
on
Saturday Mar 31, 2012
Under
Tips
On this day in day in 1918, Daylight Saving Time went into effect in the United States. Daylight Saving, an idea created by Benjamin Franklin, is the practice of advancing clocks so that evenings have more daylight and mornings have less. Benjamin Franklin first suggested Daylight Saving Time take places so that merchant shops could save the cost of lighting shops by having business hours that opened earlier and closed at dark. After World War I, the President of the United States repealed Daylight Saving, but was put back in effect during World War II.
On June 6, 1933, the world's first Drive-in Theatre in Camden, New Jersey was opened. In less than a year a second was opened and shortly after one hundred drive-ins where established across 27 states. Between the 1940s and 1950s parents were fond of the idea of being able to put their kids in pajamas and taking them to the movies outdoors. The drive-in theater's casual and convenient locations in the suburbs was appealing for parents. They no longer had to take a trip into the city to watch a movie indoors in a cramped theater house. By the end of the 1950s the popularity of outdoor movie watching grew to 4,063 drive-in theatres in the United States and Canada. But the drive-in was about to experience a decline.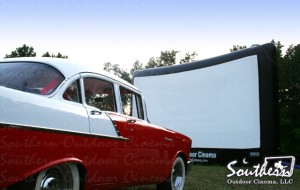 In the 1970's the United States was experiencing a fuel crisis. A national year-round daylight saving time was adopted as a fuel-saving measure during the energy crisis of the winter of 1973–74. This reinstatement of extending daylight time into the evening may parents reluctant to take their families to the drive-in for showings starting as late as ten o'clock at night. The popularity of watching movies outdoors began to decline.
Today, drive-in movies are on the comeback. Many closed down establishments are reopening and adding attractions to their facilities such as playgrounds and fm transmitters. Inflatable Movie Screen technology also is planning a part in returning the nostalgic outdoor movie watching experience. Portable inflatable outdoor movie screens allow for special one-night showings of movies in outdoor settings in parks where movie goers bring blankets and chairs.
All Rights Reserved
Southern Outdoor Cinema
"Bigger Screens. Brighter Images. Crisper Sound."
###
Want to use this article on your website or your own blog? No problem! But here's what you MUST include:
Southern Outdoor Cinema is the largest producer of PREMIUM outdoor movie events in the country. They are leading the industry with NEW & UNIQUE outdoor movie events. To begin planning your outdoor movie event contact Southern Outdoor Cinema at www.SouthernOutdoorCinema.com or visit their online photo gallery at www.facebook.com/SouthernOutdoorCinema for event ideas.

Tags : daylight saving time, drive-in, drive-in theater, inflatable movie screen, outdoor movie | Comments Off

on Did Daylight Savings Time Make The Drive-In Theater Go Dark?