The heat wave gripping Metro Atlanta continues for two weeks with no end
in sight. Southern Outdoor Cinema, of Alpharetta is busy this summer,
offering outdoor movie events by poolside throughout the area as a great
way to cool off.
Poolside movies give families something different to do together. Instead
of just going to a movie, poolside movies allow families to swim and watch
a movie at the same time. The over head flood lights are turned off with
the pool's underwater lights remaining on. Kids float on inner tubes and
parents relax in lounge chair while watching the movie on a screen next to
the pool.
Basically a poolside movie is a giant inflatable movie screen set next to
a pool in a backyard, community center, or public pool where movies are
projected onto the screen. Southern Outdoor Cinema typically can
transform any poolside into a dive-in event in under an hour.
The concession stand typically sell standard movie fare – hot dogs,
popcorn, sodas and candy. The event is a modern twist to the drive-in,
but with inner tubes instead of cars, and a very family-oriented
atmosphere.
Last month, Southern Outdoor Cinema partnered up with Northside Hospital
Forsyth and Dawson County Parks and Recreation to offer a Movie on Lake
Lanier. The movie screen was setup on the shore of Lake Lanier at War
Hill Park. Movie goers enjoyed a movie on the beach with the option of
watching the movie while taking a swim in the lake or watching from a
boat.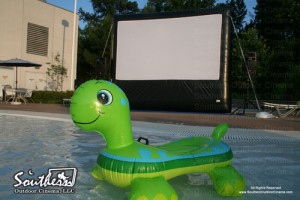 Tags : atlanta, dive-in movie, movie by poolside, outdoor movie, outdoor movie on the beach, southern outdoor cinema, splash-in movie | Comments Off

on Beat the Heat in Atlanta with Movies by Poolside